Foodie 5K – Day of the race (Part 3 of 3)
22/Mar/17 / 14:45
You've prepared for the race, you've reflected on the "why" (raising funds directly impacts the lives of hungry neighbors in your community – learn more in this post), now it's time to GET EXCITED! The fourth annual Foodie 5K at Cantigny Park is just two weeks away, and our team has been working around the clock to make sure this year is the best yet. Here are just a few reasons it's sure to be the best yet:

Did I mention, here at the Food Bank, we LOVE food?

Thinking of this year's food truck line-up has got us salivating. You'll find something for everyone, and everyone will want something. They say a picture speaks a thousand words, so here are a few sneak previews:


All participants receive a $2 voucher to be used at the food truck of their choice, but we recommend you bring cash or a card if you want more than one sampling! Check out the full line-up and decide for yourself: Best Truckin' BBQ | Cupcakes for Courage | Golden Eagle | Happy Lobster | Piko Street Kitchen | Rouge Curbside Kitchen | The Slide Ride | Toasty Cheese.
This year, no matter how fast you run…
you could be going home with a 2017 Foodie 5K medal around your neck.

Become a Foodie VIP by fundraising $250+, and you'll go home with all sorts of Foodie swag, including this quality medal commemorating the event.

Need some last minute fundraising tips? See how you can raise $250 in just one week here!

Remember: every $1 you raise can be turned into $8 worth of food for your hungry neighbors!

Finally, don't be surprised if you enter the kid's zone…

and leave as a butterfly or superhero. We'll have three face painters eagerly waiting to transform kids of all ages. On your way out, make sure to give a big high five to our friends Ozzie from the Kane County Cougars and Rusty from the Chicago Steel.

These are just a few reasons why the Foodie 5K is an event you'll want to share with friends. For more details about the Foodie 5K events at Cantigny Park, Independence Grove, or Lewis University and to register as a participant or volunteer, visit www.SolveHungerToday.org/Foodie5K.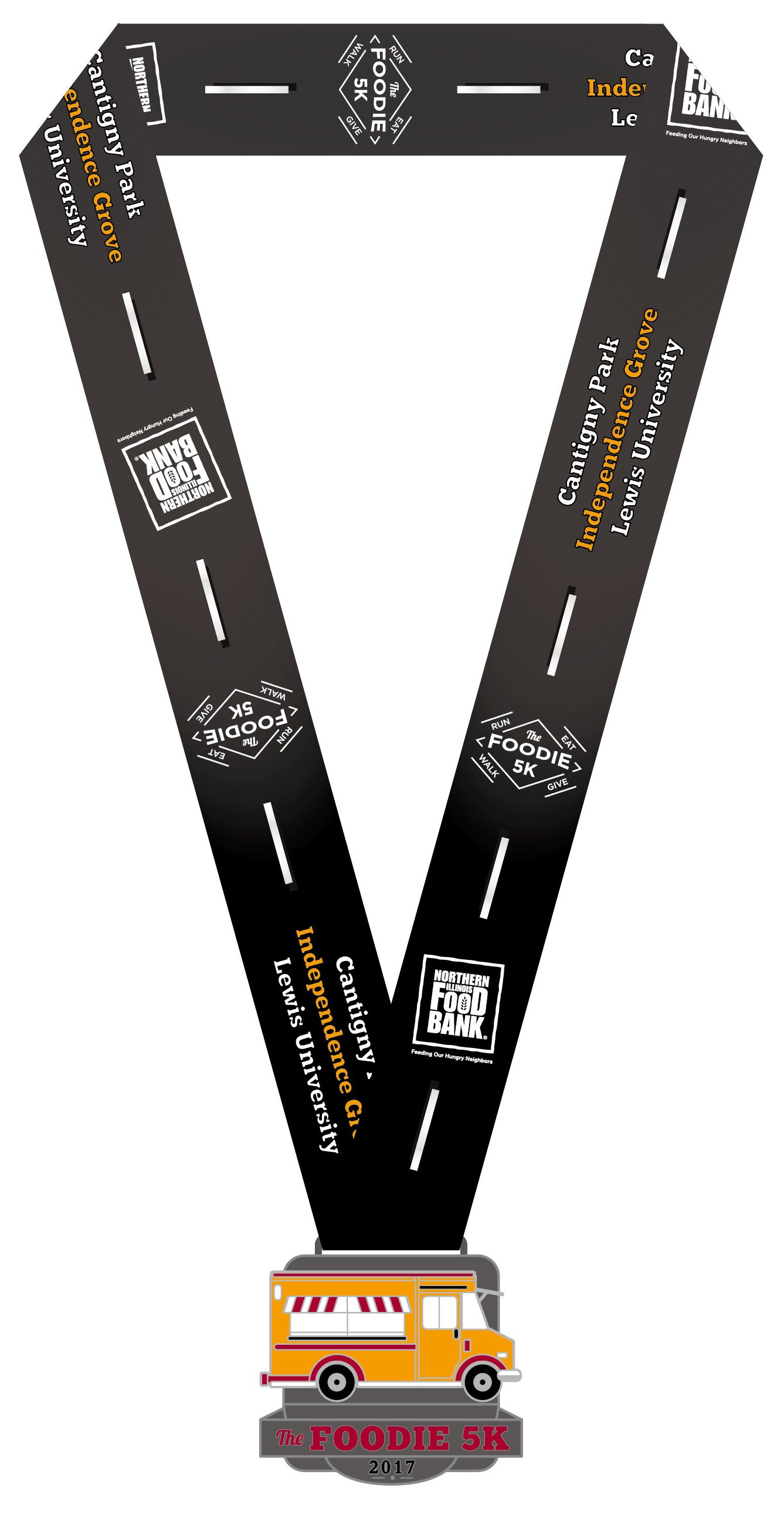 ---
How You Can Help:
Volunteer at one of our Centers in Geneva, Rockford or Park City sorting and packing food
Donate to help us solve hunger in your community – every $1 donated provides $8 worth of food.
Want More?